Review
Yipee's Gold Mountain
Raquel Rivera
Red Deer Press, 2017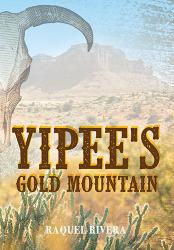 Yipee (a corruption of Yip Yee) and Na-Tio meet under unlikely circumstances. She (dressed as a boy) is searching for ranch work, and he is running from shame after disobeying his father. They decide to travel together, and with their combined resources they find work and come of age in the American West at a pivotal moment in history.
Yipee's Gold Mountain is historical fiction intended for struggling readers, but its layered issues will also reward strong, contemplative readers. The story unfolds through alternating chapters, Yipee's told in first person, Na-Tio's told in third person. But there's a lot going on narratively besides the plot. The story raises complex questions about what it means to be an American, how people give and receive care over our lives, and how gender and perceptions shape our experiences and the way others value us. The novel is likely to generate substantial conversation and could work well in a small classroom or teen book group (the author offers her own perspectives on some of these questions in the back matter).
I kept thinking about the story, the characters, and the questions the novel raised long after I closed Yipee's Gold Mountain; for me, that's the mark of a thoughtful book. As Canadians try to recognize and unpack settler culture and to understand Indigenous concerns, books like this can help readers appreciate nuances of history that may otherwise be lost.
This review was originally published in Resource Links, October 2018.