Review
Sweep: The Story of a Girl and Her Monster
Jonathan Auxier
Puffin, 2018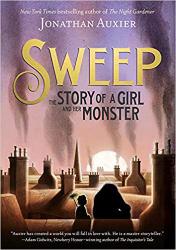 Nan Sparrow is tough: the strongest, nimblest, and luckiest of London's climbers. She is also nursing private grief. She has lost the Sweep, the kind-hearted man who raised her from infancy, and she is locked in a bitter contest with a boy for the coveted apprenticeship with master chimney sweep Wilkie Crudd. When Nan appears to die in a chimney fire, she finds Charlie, who turns out to be a golem. She also meets Miss Bloom, a teacher at a girls' school who befriends Nan and supports her new independence. But what will it cost Nan to leave the dangers of the street?
Sweep is a historical fantasy set in Victorian England. The novel is organized in part around William Blake's Songs of Innocence and Experience and portrays the hard life of a chimney sweep, labour that for decades was performed by children tiny enough to fit inside chimneys. The presence of Charlie lends an element of magical realism and underscores the importance of friendship, loyalty, and nurturing in a nasty, brutish world.
Beyond its sprinkling of literary references (after Blake, Miss Bloom presses Nan to read Mary Shelley's Frankenstein, and later Nan and Charlie read The Water-Babies together), the novel tackles big topics: poverty, religion, justice, and death. (The author's Historical Note points readers to resources for further reading.) Through Nan's eyes readers see how quickly one's circumstances can turn upside down and how one may respond to both kindness and cruelty. Well-paced scenes and deft narration hold the telling back from becoming didactic, though. Ultimately, the novel stakes a claim for compassion, its key motif being "We are saved by saving others," a potent sentiment in our culture that so often puts the self first.
Sweep is a long novel with robust vocabulary for its age group, but the compelling story is sure to be gobbled up by strong readers. The novel would also make an excellent selection for teachers to read aloud in class. It is tenderly written, punctuated by moments of comedy and terror, and its bittersweet ending will stay with readers for a long time. Impressive.
This review was originally published in Resource Links in October 2018.