Review
Paths to the Stars
Edward Willett
Shadowpaw Press, 2018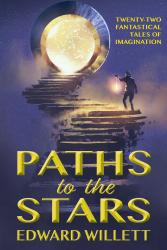 Many students get their start as serious readers of science fiction and fantasy (SFF) in junior high or early senior high. Often they read the classics in the genre without ever realizing that SFF authors are alive and producing right here in Canada. Paths to the Stars offers readers a sly and good-humoured introduction to the work of Saskatchewan-based, award-winning writer Edward Willett, best known for his novels Marseguro and Terra Insegura. The twenty-two short stories in this collection, compiled from two decades of writing and publishing, feature prairie characters and landscapes, comical scenarios, thought-provoking moral conundrums, and more — situating imaginative writing with a clear sense of place.
With their compression and light literary touches, these stories may nudge readers into reading more short fiction in SFF — and what a bounty is available today! They may also be a sneaky way to encourage less avid readers to explore the structure and features of literary short stories in a more palatable and accessible form. Paths to the Stars should have broad appeal and would make an excellent addition to a classroom library and a fine recommendation from a trusted reader. I really enjoyed this book.
This review was originally published in Resource Links, December 2018.