About Me
tl;dr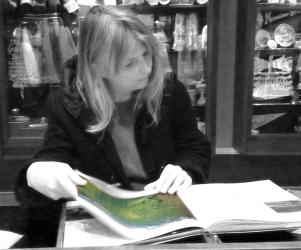 I am a professional reader: a writer, an editor, a reviewer, an academic, and an administrator. The content of this site is as idiosyncratic as the site's creator.
---
The Long Story
My Official Bio
The author of The Complete Canadian Book Editor (2016), a resource for editors and writers, Dr. Leslie Vermeer has worked as a professional writer, editor and reviewer for more than 25 years and has edited or worked on some 200 books. Currently an Associate Dean of the Faculty of Fine Art and Communications and an Associate Professor in the Communication Studies Department of MacEwan University, she has been a member of the board of NeWest Press since 2007 (currently sitting as President) and is a member of Editors Canada. As a grammar nerd, a long-time logophile and a committed bibliophile, Leslie enjoys working with students and clients alike as they explore language, writing, editing and communication.
My Expertise
Professionally I concentrate on consulting and development within the sphere of communcations and publishing. Working with writers, their texts and aspirations, I bring ideas and concepts to fruition.
Academically my focus is on editing and publishing, publishing and political economy, publishing and the cultural industries, children's and YA publishing, curriculum as educational policy, sociology of education, applied linguistics, English language arts and employment, English language arts and social capital, gender and text, book culture, print culture studies, censorship
Professional Experience
President
NeWest Press — Founded in 1977, NeWest Press is one of Canada's first independent literary publishing houses. NeWest publishes literary fiction, literary nonfiction, poetry, and drama, as well as a line of mystery novels, with a particular interest in books by Western Canadian authors.
Board editor
NeWest Press — novels and nonfiction. Titles include Dominion of Mercy by Danial Neil (forthcoming Spring 2021); The Weight of Blood by D.B. Carew (forthcoming Fall 2020); The Inquirer by Jaclyn Dawn (2019) plus thirteen more.
Freelance Editor
Titles include Education Policy: Bridging the Divide Between Theory and Practice, 2nd ed. (Delaney, 2017); Creative Arts in Humane Medicine (McLean, 2014); All Under Heaven: The Chinese World in Maps, Pictures, and Texts (Davis, 2013); Safe Drinking Water: Lessons from Recent Outbreaks in Affluent Nations (Hrudey, 2004); I'll Never Marry a Farmer (Hole, 1997); The anamorphic I/i (Jagodzinski, 1996).
Certification Standards Committee
Editors' Association of Canada, 2004–08; 2012–16
Editor, University of Alberta Press, 1996–2002
Coordinated publication of 20 to 25 books each year: acquisitions, contracts, developmental editing; substantive editing and research; copyediting, proofreading, and copywriting; production editing; administration and supervision, project costing, grant preparation, proposal writing, hiring freelance staff, and working with editorial advisory board.
Academic Experience
Associate Dean, Faculty of Fine Art and Communications
Associate Professor, Communication Studies
Past Interim Department Chair, Arts and Cultural Management
Past Department Chair, Bachelor of Communication Studies Past Department Chair, Bachelor of Applied Communication and Professional Writing
Teaching and Research Interests
All of my academic work is organized around the question "Who benefits?" and adopts an intersectionalist feminist framework. My current project examines how daughters and mothers are represented in literature for children and teens. I have also researched micro-publishing and political economy and the role of publishers in post-oil boom Alberta.
My teaching is informed by praxis (practice engaged by theory and theory engaged by practice). Having taught in both credit and non-credit settings, as well as doing custom training for a range of clients, I find that being an active professional writer and editor as well as a scholar keeps me current in the classroom and working with students keeps my professional skills nimble.
Selected Publications and Presentations
"Giftedness and After: A Narrative Inquiry into Girls' and Women's Experiences of Failure and Success" Canadian Society for the Study of Education, Vancouver, BC, June 2019

Understanding Human Communication, 4th Canadian edition (Adler, Rodman, and Sévigny), Oxford University Press, 2019 — Student study guide

Business Communication Essentials, 5th Canadian edition (Bovée, Thill, and Scribner), Pearson Education Canada, 2019 — Instructor's manual, PowerPoint presentations

"Micro-Publishing and Political Economy: Publishing Resilience." Social Theory, Politics and the Arts conference. Minneapolis, MN, October 2017.

"Alberta Exceptionalism and the Precariousness of Literary Culture." International Conference on Books, Publishing & Libraries. London, England, July 2017.

"The NDP, the TRC, and Why We Might Make the Same Mistakes Again." Canadian Society for the Study of Education (Congress 2017). Toronto, ON. May 2017.

The Complete Canadian Book Editor. Calgary: Brush Education, 2016.

"I Can Read My Future Class Position: Children's Book Clubs and Middle-Class Mothering" International Conference on Books, Publishing, and Libraries, Boston, MA, November 2014

Mackey, Margaret, Leslie Vermeer, Dale Storie, and Elizabeth DeBlois. "The Constancy of the School Canon." Language and Literacy 14.1 (2012): 26-58.