Review
I Tumble Through the Diamond Dust
Edward Willett
Your Nickel's Worth, 2018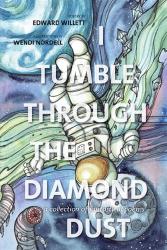 In April 2016, Saskatchewan's then–poet laureate Gerald Hill sent members of the Saskatchewan Writers' Guild two lines of poetry each day and challenged the recipients "to create new work either inspired by or incorporating those lines." Edward Willett took up the challenge and added his own twist: his poems would not only incorporate the distributed lines but also present a brief science fiction or fantasy narrative. He succeeded brilliantly at the challenge, yielding a book of poems that will delight and intrigue anyone who enjoys poetry — and that may win over readers who think they don't, too.
I Tumble Through the Diamond Dust is a startlingly good book of poetry for teens. Its twenty-one free verse poems are by turns funny, moody, thought-provoking, and dazzling. Some offer a social critique with obvious contemporary resonance, such as "He Really Should Have Written" (in which a mother laments her son who has been lost to a gang of galactic vampires) or "The Telling" (in which a mob is shaken from the complacency of "the Single Narrative"). There are numerous local flashes, such as the references to Fort Qu'Appelle and Prince Albert in "Saint Billy" and the "CBC pundits" in "Facing the Silence"; and there are allusions — light and sly — in "This Is the Way the World Ends" and "Dammit, I'm a Doctor, Not an Entrée." Younger students are sure to enjoy the gruff, bouncy rhythms of "The Tale of Old Bill from the Ship Cactus Hills," a quirky revisiting of the frontier epic told with tongue firmly in cheek.
The poems are finely complemented by Wendi Nordell's black-and-white illustrations, which are intriguing in their own right. This presentation style is tailor-made for senior high Language Arts assignments, both creative and critical. I Tumble Through the Diamond Dust will make a versatile addition to classroom libraries — and as a bonus, readers may be encouraged to seek out the poets whose lines have inspired these poems and perhaps in turn create poetry of their own. This creative collection is a gem!
This review was originally published in Resource Links on October 2018.