Review
Optimists Die First
Susin Nielsen
Tundra Books, 2017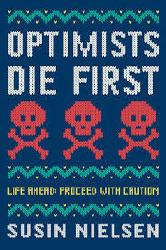 Petula wants her life to be as safe, quiet, and unremarkable as possible. Since the tragic death of her little sister, Petula has cut unnecessary social ties, turned inside herself, and become an expert at identifying — and avoiding — risk. Then she meets a boy she dubs the Bionic Man; soon she's questioning her ideas about safety and security. With friendships, relationships, and her own mental wellness hanging in the balance, Petula must decide whether to take a chance on a boy who gives her so much, but could hurt her very badly.
I loved Optimists Die First. I enjoyed it much more than Nielsen's 2016 book We Are All Made of Molecules. Although the plot sounds like a romance (and there is a romantic relationship at the centre of the plot), the novel engages much bigger issues than simply girl meets boy. A twist revelation late in the book adds depth and dimension to the story; I appreciated that the author didn't let her characters take the easy way out.
Optimists Die First is likely to become a favourite with YA readers. With all her anxieties, Petula is initially tough to like, but she's worth getting to know.