Review
Ramadan: The Holy Month of Fasting
Ausma Zehanat Khan
Orca Book Publishers, 2018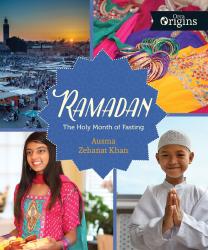 Ramadan is the holy month of fasting observed by Muslims to teach and uphold key beliefs. It is a period for reflection, empathy, and renewal; it is also a time for family and community — particularly at the arrival of Eid-al-Fitr, the end of the fast.
Ramadan provides a clear, accessible introduction to Ramadan and Islamic beliefs generally. The author explains the stages of Ramadan and the practices associated with the holy month. Her presentation includes a survey of Ramadan traditions from diverse societies around the world, as well as her personal reminiscences and short profiles of young Muslims' individual choices and needs during a month-long fast. The text also includes quotations from young people explaining what Ramadan means to them, an excellent extension of Ausma Zehanat Khan's own story. The text is supported by a glossary and a short list of references. There are even a few recipes for readers who want to sample the flavours of other cultures. Throughout, the author's voice is warm and friendly, but also respectful — nicely balanced.
Ramadan is a new volume in the Orca Origins series, which has been uniformly well researched and attractively presented. The colour palette of this book is soft and appealing, while the bright full-colour images add interest to every page. This series has been insightfully planned and carried out: books like Khan's Ramadan make intercultural discovery and understanding fascinating and fun. I particularly like how prominent girls and women are in this text. And while the book is intended for kids, there are many adults who would benefit from reading it to dispel their misunderstandings. I emphatically recommend Ramadan: The Holy Month of Fasting to any class or community interested in reading for multicultural understanding.
This review was originally published in Resource Links on February 2018.