Review
The Journey of Little Charlie
Christopher Paul Curtis
Scholastic Canada, 2018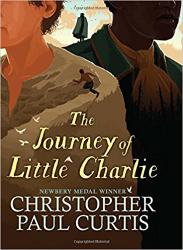 Twelve-year-old Charlie has a hard life growing up in South Carolina in the mid-nineteenth century, but it's bearable because Pa is beside him tending the fields, teaching him to shoot, and showing him how to live in an oversize body. When Pa dies under mysterious circumstances, Cap'n Buck, the neighbouring overseer, comes to claim a debt he says Pa had failed to honour. Charlie and Ma are destitute; Cap'n Buck says he'll take Charlie's labour in lieu of the money. And so Charlie begins a journey of unimaginable violence, cruelty, and desperation to retrieve a pair of runaway slaves.
I just loved The Journey of Little Charlie. It took me a few pages to adjust to Charlie's dialect, but I liked his character immediately, and his story was gripping. The voice and plotting combine to let readers' understanding of events emerge with Charlie's. With elements of adventure, mystery, personal peril, and family saga, the novel is hard to put down and will appeal to a wide range of readers — and will stand up to repeated reading.
Some readers may need to discuss troubling plot points with an adult. Much of the violence in the story happens offstage, but some elements — for instance, cat-hauling and Ma's disappearance – occur in Charlie's narration and provide disturbing examples of Cap'n Buck's despicableness. Christopher Paul Curtis (author of The Watsons Go to Birmingham—1963, among other novels) depicts pre-Civil War rural life realistically but pulls back appropriately for his audience — and offers a hopeful ending for Charlie in Canada (and ties Charlie to the world of Curtis' Buxton series).
The book would make an excellent pick for a novel study: it's eminently readable and sure to provoke discussion. It's a must for school and classroom libraries. One of my favourite books so far this year, The Journey of Little Charlie is a winner.
This review was originally published in Resource Links on June 2018.