Review
The Afterward
E.K. Johnston
Dutton Books, 2019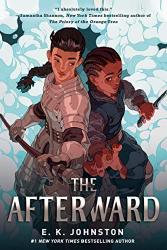 The Afterward is a sly fantasy with a rollicking plot that examines what happens after the victors return from their quest. In the kingdom of Cadrium, a feud has erupted between the Old God and the new gods. The new gods call on the king and his knights for assistance with defeating the Old God and His followers. The novel retells this battle, but the real story is the romance between Olsa Rhetsdaughter the Thief and Kalanthe Ironheart, an apprentice knight, that lingers after the battle ends. A new problem emerges, throwing Olsa and Kalanthe together once more. But now Kalanthe is engaged to a wealthy older man. Are Olsa and Kalanthe doomed?
This cross-genre story is nicely gender-bent: knights can be male or female, but all the "Sir Knights" featured in the action are women. Women are also sailors, mages, thieves, and inn keepers — which is to say, women are much more present in active roles in this novel than is typical of epic fantasy. It's refreshing. The story may initially be a little confusing, as it is told in two time scales from two narrative perspectives, but readers will soon figure out the Before and the After and will be cheering for Olsa and Kalanthe's success on many fronts.
Written with energy and passion, The Afterward will find a large and hungry audience. For readers new to the genre, the female-positive twist on fantasy may open a door to writers like Ursula K. LeGuin, Lois McMaster Bujold, Naomi Novik, and N.K. Jemisin. This is a fun, fast-moving novel — perfect summer reading!