Review
My Body My Choice: The Fight for Abortion Rights
Robin Stevenson
Orca, 2019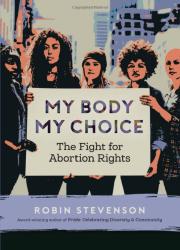 My Body My Choice is a powerful work of nonfiction for teen readers that situates abortion rights historically and then almost effortlessly recontextualizes its topic as reproductive social justice. The book presents its content in a way that is visually appealing and approachable, inviting teens to recognize how abortion engages with other issues of social justice and inclusion such as race and racism, representation of disabilities, and trans rights. I cannot overstate what a vital book this is for any young person who wants to understand the most important medical rights issue of the early twenty-first century.
The content of My Body My Choice is as fascinating as it is significant. Although the author grounds the book in a Canadian context, the presentation reaches across borders and around the globe. The writing is clear and direct; the author doesn't pull punches or indulge in euphemisms. The book includes dozens of photographs representing women and men who have fought to ensure women have had the choice to end a pregnancy. It also includes graphics, comics, profiles of young activists, and clear facts to counteract the many myths surrounding abortion, plus solid back matter for those who want definitions and further resources. Readers will finish this book with a broad comprehension of what abortion means and why it matters. The intended audience is teens, but parents, teachers, counsellors, and social workers will benefit from the clarity and leadership this book offers.
I admire this book tremendously and wish something similar had existed when I was a teen. If you are concerned about reproductive social justice — the right to have an abortion and the right to become pregnant by choice, not by chance or by circumstances — then please put this book in the hands of the young people you serve. My Body My Choice needs to be in every secondary school library and every teen section across the country — and it won't be: the topic is so controversial, so inflammatory. But young people need good information, and young people who care about their futures need to understand this history. Highly recommended.