Review
Ebb and Flow
Heather Smith
Kids Can Press, 2018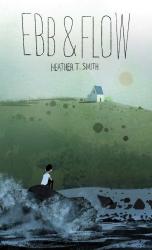 Twelve-year-old Jett has had a difficult year. A series of bad decisions has led to serious consequences, and Jett is spending the summer with his grandmother while his mother figures out what to do. A summer of reflection, however, with a good listener and a healing ocean leads Jett to an admission of his actions and a will to change.
It's unusual to read a book told from the perspective of a bully — especially when the bully himself is a victim of another, bigger bully. What I especially admired about this verse novel is the way it uses stories as a form of both teaching and healing. Grandma tells stories about herself to create a safe space, and Jett in turn uses storytelling to reveal — slowly, carefully — what happened with Junior (his friend/enemy) and Alf (a mentally challenged man Jett has befriended). His grandmother's unconditional love and empathy help Jett wrestle with his uncomfortable emotions and make a plan to atone for his actions. The free verse has some lovely musical lines, and readers who enjoy poetry will find numerous symbols and motifs to trace, enhancing the narrative.
Ebb & Flow is a warmhearted, compassionately observed novel that demonstrates that redemption is a quality we can achieve for ourselves. As our culture grows more aware of difference and vulnerability, this book offers readers a rewarding perspective on simple kindness.
This review was originally published in Resource Links on October 2018