Review
Miss Mink: Life Lessons for a Cat Countess
Janet Hill
Tundra Books, 2019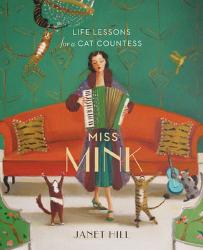 Miss Mink: Life Lessons for a Cat Countess is a charming book about cats and embracing your independence. Miss Mink, a Flapper-style New Woman, has been declared a cat countess. She and sixty-seven cat companions sail the world in a steamship enjoying days of play, rest, good dining, and camaraderie.
This is a sweet, fanciful picture book, executed in Modernist style with oil paint on canvas. The paintings are dreamy and rich. I'm not sure how much child readers will enjoy this book, apart from chasing and counting the various cats, but many adult readers will enjoy the illustration style (think the Miss Fisher's Murder Mysteries television series) and the cat-approved lessons for living your best life.
A great pick for picture-book collectors, and a nice addition to any home library complemented by cats.