Review
Slip Jig Summer
Elizabeth J.M. Walker
Orca Books Publishers, 2018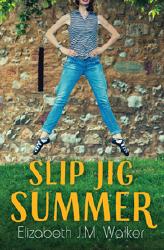 Natalie usually studies ballet with Amber and Yumi, but summer vacation pulls the girls apart. Given the chance to join her cousins' dance class, Natalie can either turn up her nose or take part to maintain her fitness and skills. But when her best friends seem not to miss her — even seem to be glad she's away — Natalie's confidence collapses. Can Natalie be a dancer if she's not practising ballet?
Slip Jig Summer offers a fun twist on the fish-out-of-water story by putting a ballerina in an Irish dance class. It's a short book with a fast-moving plot, so there's limited space for character development. Natalie reads as a somewhat flat character, and the stakes in her conflict don't feel terribly high. Similarly, Amber's turn to "frenemy" seems unmotivated and is predictably resolved. That said, familiar interpersonal issues, portrayed in an accessible storyline, will help lower-literacy readers move through the text easily.
Slip Jig Summer is a new volume in Orca's Limelights series for students interested in the performing arts. I enjoyed the fresh focus on dance and predict the novel will lead its readers to other dance novels (of which there are many). It's an energetic selection for high/low readers.
This review was originally published in Resource Links on February 2018.