Review
Reawakening Our Ancestors' Lines
Angela Hovak Johnston
Inhabit Media, 2017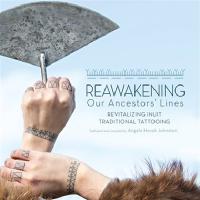 Reawakening Our Ancestors' Lines describes the process a group of women in the Canadian Arctic followed to revive the tradition of women's tattoos. Historically, Inuit women wore tattoos on their hands, arms, and faces to represent a range of personal and social messages. After contact with European missionaries, women stopped being tattooed and the cultural knowledge of traditional tattooing was nearly lost. Thanks to Angela Hovak Johnson, however, the practice is being reclaimed with striking results.
This resolutely woman-positive project turns on its photography. The photos present both the tattooing process and a portfolio of an emerging generation of tattooed women, from teens to elders. The editorial photography is clear and straightforward, accompanied by explanatory text and the women's individual stories of their tattoos' meanings. The portrait photography captures the women in strong poses as they display their tattoos, often in northern landscapes. For non-Inuit readers, the book offers a powerful (and sometimes playful) way to understand elements of Inuit culture. For Inuit readers, the book represents the pride and resilience of women and culture.
I would underscore, however, the book's stern warning that these tattoos, no matter how appealing they may be for non-Inuit women and men, are the cultural property of Inuit women, who are struggling to retain and reclaim their traditional knowledge and practices. Non-Inuit should emphatically not consider seeking similar tattoos but rather learn to appreciate the beauty and significance of these tattoos for the women who wear them today.
Reawakening Our Ancestors' Lines is a glorious book that documents important work of cultural reclamation. It belongs in libraries across Canada, and I hope it will find a broad audience. It is a proud declaration of women's strength and beauty and a profound testament to cultural recovery.
This review was originally published in Resource Links on June 2018.