Review
The Wolf and Me
Richard Scrimger
Orca Book Publishers, 2014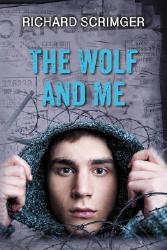 The opening chapter of The Wolf and Me finds Bernard — Bunny to his family and friends — wearing rented ice skates and trapped in the trunk of a car. From that unlikely moment a story of epic proportions unwinds, involving national terrorists, aggressive border guards, a lost baby, and a daring last-minute rescue.
The story is propelled by a wild cast of characters, such as the beautiful but treacherous Vi, the good-hearted Bet, the elderly but surprisingly resilient Katy, and the wolf of the title. At the centre, however, is Bunny, who is such a likeable character — if perhaps not the most reliable of narrators. Bunny reminds us regularly that he's "dumb" but we see how clever he really is and how many strengths and gifts he possesses. As he lurches repeatedly from frying pan to fire and back again, Bunny demonstrates lateral thinking, problem solving, and determination — admirable qualities in any character.
I found this book great fun. Bunny's adventures veer toward the edge of implausible, but his frank and lovable voice made me cheer for him. Somehow Bunny always comes out OK, thereby leavening the consequences of the story for younger readers who may not be ready to see their protagonist serious imperilled. The introduction of the wolf was an effective way to signal themes of maturity, responsibility, and honour — within the context of a series where these themes are trickily entangled.
Like Richard Scrimger's previous novels, this book is playfully and smartly written. Readers who have already explored the original Seven, the Series books will welcome another delightful, if improbable, adventure with Bunny (see previous post for more details). The Wolf and Me is an all-around rollicking read!
This review was originally published in Resource Links on October 2014.