Review
Ink Me
Richard Scrimger
Orca Books, 2012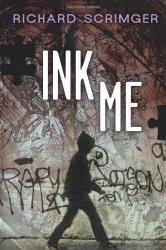 In the opening pages of Ink Me, Bunny's grandfather gives Bunny a simple task: go to a particular location and get a tattoo. That simple task sets in motion an almost fantastic chain of moments, increasingly violent and frightening. Fifteen-year-old Bunny innocently enters the world of gangs but lacks the understanding to get out before he is irremediably caught up in events that cannot be easily resolved.
Bunny is "dumb," as he describes himself. The exact nature of his disability is not made clear, but readers will understand immediately that Bunny does not possess a conventional intelligence. Yet Bunny is a likeable, engaging narrator whose storytelling style is captivating both in its naïveté and in its omissions. In its idiosyncratic rendering of the ambiguities of language, the text reveals many moments of unexpected insight and brilliance. As the story gets darker, readers are likely to be squirming, trying to figure out how Bunny will extract himself from the situation; the resolution may be surprising.
The events of the story are, for better or worse, highly topical, and the story reflects themes that have appeared in some of Richard Scrimger's other novels. There is serious violence in this text, although it is somewhat muted; the threats characters make are palpable, and the atmosphere of the story, despite Bunny's comic tone, is distinctly ominous. Readers may want to talk about the book after it ends, and the text would lend itself well to group discussion in an appropriate classroom or book group. There are so many directions this conversation could take; this is a surprisingly rich book, despite its casual presentation.
I really liked Ink Me. It is clever in its execution and wise in its thematic treatment. I am also intrigued by the concept of the series this book belongs to, involving seven interlocking but non-sequential texts written by seven distinct authors. I look forward to reading the other volumes in the series.
This review was originally published in Resource Links on October 2012.
Addendum: If you enjoy Bunny's adventures, check out Weerdest Day Ever! by Richard Scrimger, available in September 2016. It's a prequel to Bunny's Seven series books that takes place several years earlier and is intended for a middle-grade audience. It's very, very funny!