Review
The Highest Number in the World
Roy MacGregor
Tundra Books, 2014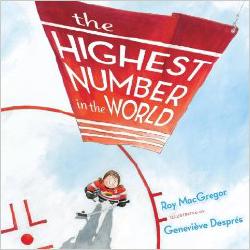 In his latest book, Roy MacGregor, already well known to middle-grade readers for his Screech Owls series, finds a new readership. The Highest Number in the World is a short, sweet story about hockey, dreams, and the people who inspire us.
Gabe's jersey is number 22, just like her idol Hayley Wickenheiser's. But her new team's jerseys number only up to 20, and Gabe gets number 9. How will she ever be able to play again without her lucky number? And what can her grandmother Gabriella possibly do to help?
The Highest Number in the World is a delightful book. Hockey player or not, any reader will identify with Gabe's struggle with uncertainty in the face of change. The story ends happily, of course, but the telling is balanced and modern. I'm pleased to see MacGregor continuing to represent hockey as a welcoming, inclusive sport for girls — and also glad he doesn't flinch from acknowledging the male-only history of the game.
Another delight of this book is the illustrations, which make an homage to the traditional NHL and the larger culture of hockey. Look carefully at the colours and the details in the images: they're very clever!
It's not quite Roch Carrier's The Hockey Sweater, but the story of Gabe and Gabriella is highly identifiable and lovable. A great choice for pre-readers, early readers, and anyone who enjoys the game. I give it 4.5/5.