Review
Reinvesting in Families
Dorothy Badry, Don Fuchs, H. Monty Montgomery, and Sharon McKay, eds.
University of Regina Press, 2014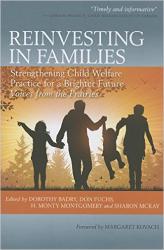 Healthy families make healthy communities. The inverse is also true: when families struggle, the community suffers. Reinvesting in Families: Strengthening Child Welfare Practice for a Brighter Future, a collection of research edited by Dorothy Badry and colleagues, argues that on the prairies we need new, evidence-based social work practices to help families and communities be strong and healthy. The book takes a big step toward identifying practices that work and asking questions about future improvements.
Reinvesting in Families is part of a series developed by the Prairie Child Welfare Consortium (PCWC). The University of Regina was a founding member of PCWC, whose goal is "to share information, conduct research, and consult, collaborate, and partner … to enhance and strengthen child welfare service delivery, education, and training." Several of the contributors to this book point out that Aboriginal children and families are particularly affected by social services and social policies. They call for new, "innovative programs based on Indigenous knowledge and methods." Changing the way social work is done — not only by becoming sensitive to Aboriginal needs but by actively advocating on behalf of Aboriginal people — is one way to support the Truth and Reconciliation Commission's Calls to Action.
Research in this book shows that social work emphasizing women's health and family well-being improves family stability, which is the foundation of social stability. Further, secure adult employment, reliable health care, and safe, affordable housing can ensure that all Canadians enjoy a safe, just future. Contributors to the book call for recognition of "poor and marginalized children and families," so necessary today when economic strain is increasingly felt in communities large and small. Although much of the research discussed in this volume took place in Alberta, the findings apply throughout western Canada and into the North.
The book speaks primarily to people working directly in child welfare and should be on the bookshelves of frontline workers across the prairies. The secondary audience, however, is wide and diverse. Educators, caregivers, social justice advocates, community leaders, policy makers, academics, and politicians from all levels of government may learn a great deal from reading this book.
Every day, social workers and allied professionals do important work in communities across Saskatchewan. You might not know who these workers are or recognize the significance of their work, but it affects all of us directly. Child welfare work is often complicated, increasingly so as the web of agencies and resources is strained by funding issues, shifting priorities, and increasing caseloads. If you're interested in how social work is changing in the 2010s, Reinvesting in Families is an excellent place to start learning about the state of the profession and how innovative, community-based social work can be done.
This review was originally published on www.skbooks.com .