Review
Adventures with Barefoot Critters
Teagan White
Tundra Books, 2014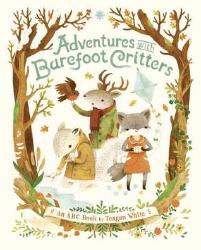 Adventures With Barefoot Critters_ is a dreamy new ABC book that includes enough twists to keep both children and adults engaged through multiple readings. It was written and illustrated by Teagan White, a designer, illustrator, and blogger whose non-book work is striking and appealing. This playful, artful book, with its gentle touches and lilting rhymes, could easily become a favourite at naptime or bedtime for pre-readers and early readers alike.
The book follows a group of friendly anthropomorphized animals through the cycle of a year, following changes of seasons and various celebrations. The characters include some that readers might expect, such as a fox and a mouse, as well as some surprising and charming choices. Every opening features thoughtful details that allow readers to explore and extend the characters and the story of their year.
One feature that I appreciated was that rather than concentrating strictly on nouns (as many alphabet books do), this text encompasses descriptions and actions: "We make messes with mud when it rains in July. But we take nice long naps in the grass once it's dry." Young readers are likely to identify with many of the featured activities and may even be inclined to follow the narrative suggestions for year-round adventures.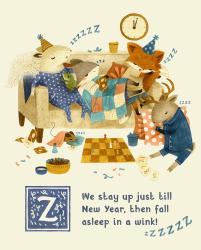 Adventures With Barefoot Critters presents a fresh approach to a standard form. It would make a lovely gift for a new family and would also be a good asset in a daycare library. Highly enjoyable!