Review
Capricious
Gabrielle Prendergast
Orca Book Publishers, 2014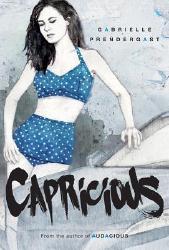 One who is capricious is given to changing mood or behaviour frequently and rapidly; capriciousness may also refer to the impossible, that which is based in fancy or fantasy. In Capricious, sequel to 2013's outstanding [Audacious][/reviews/2016-06-20-review-audacious], Gabrielle Prendergast uses the verse-novel form to explore both senses of capriciousness and the consequence of being so.
After volatile experiences with both the law and the court of public opinion, Ella (formerly Raphaelle) is a subdued but still fiercely independent Grade 11 girl. Her life is as complex as ever. She's intimately involved with one boy while considering dating another. As a condition of her return to school, she's attempting to maintain a truce with a group of mean girls. And she's worried her little sister Kayli is trying to grow up too fast. Add to that her persistent questions about life's bigger issues — religion, morality, freedom, honour: for all the flightiness the title suggests, Ella is contemplating deep and serious matters.
Overall, I enjoyed Capricious. Characters we met in Audacious are back, with more developed roles in the story. Ella's past actions continue to have consequences, some of them cruel, yet Ella's responses are generally thoughtful and consistently authentic. I like that Ella stands firm in her individuality and owns both her vulnerability and her non-conformity. I also like the passages about Ella's maturing artistic talent, expressed in the sketching and displaying of various people's hands. Finally, I enjoyed the variety of poetic techniques and forms the author has used. I found this novel immensely readable and rewarding. I did, however, feel the novel stands on its own imperfectly. It can be read on its own, of course, but to understand Ella's insecurities and idiosyncrasies fully, readers really need to know her trajectory from the previous book.
Capricious ends optimistically, if not entirely happily, and acknowledges the ongoing difficulty of realizing one's true self. There is space for another volume in this series, and I hope the author is working on a third book about Ella. Capricious could make an excellent independent study text for any high school reader who enjoys poetry, and it should be very popular in the teen section of public libraries.
This review was originally published in Resource Links on April 2014.