Review
Audacious
Gabrielle Prendergast
Orca Book Publishers, 2013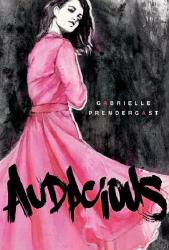 Having left trouble behind and looking to make a fresh start, Ella — formerly Raphaelle — reinvents herself as she arrives in a prairie city. But she can't make herself too plain: she is, after all, an artist. When she meets Samir, a Muslim boy, art and trouble come together again. Ella must grapple with what it means to be forbidden, to be authentic, to be audacious — even if it means losing almost everything she's come to value.
Audacious is a well-crafted verse novel. Some of the best-known book in this genre include Ellen Hopkins' Crank (which follows a teen girl addicted to methamphetamine) and Sonya Sones's books Stop Pretending: What Happened When My Big Sister Went Crazy and One of Those Hideous Books Where the Mother Dies, among others. (For those interested in exploring the genre, I'd also recommend Virginia Euwer Wolff's Make Lemonade trilogy and Martine Leavitt's stunning 2012 novel My Book of Life by Angel.) Audacious stands up well against the best representatives of the genre. The narrative is thoughtfully structured, and the verse form allows the author to engage in more word play and ambiguity than is typical in a prose novel.
I really liked Audacious. It's smart, funny, clever, and bold. Ella is a quirky, appealing character with a complicated back story and realistic, identifiable problems. I found it a pleasure to get to know her and to understand her art and artistry. While there are many strands to Ella's story, the main plot involves a piece of Ella's artwork. Ella creates a photo montage organized around the word audacious and featuring a problematic image at the centre. When her art is challenged, Ella has to make difficult decisions about her values and principles, where she is willing to compromise and where she must stay true to herself. Her decisions affect her boyfriend, her teachers, her peers, and her family as well as herself, and force her to examine issues she's run away from in the past. We see real growth in Ella, but she remains a resistant creator, not ready to make nice quite yet.
I strongly recommend Audacious for school and classroom libraries. It explores important, highly topical themes in an intelligent way, and never moralizes or patronizes. Some readers may need to know that the central plot involves a controversial word (and image); the "forbidden" word appears in the text several times in acrostics, for readers who might not be reading closely, but other so-called bad words appear with asterisks in them. This decision engages some of the central themes of the book itself and could lead to valuable discussions about censorship, appropriateness, and context.
Happily, this is not the end of Ella/Raphaelle's story: the next volume, Capricious, has been announced. I'm looking forward to it.
This review was originally published in Resource Links on December 2013.