Review
"When Did You See Her Last?"
Lemony Snicket
HarperCollins, 2013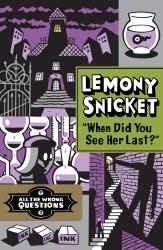 "When Did You See Her Last?" is the second volume in a new Lemony Snicket series, All the Wrong Questions, which launched in 2012 with the novel Who Could That Be at This Hour? The new volume takes us deeper into the mysterious happenings in the soon to be deserted town of Stain'd-by-the-Sea. S. Theodora Markson is back, as are Moxie Mallahan, Ellington Feint, the police officers Mitchum, little cab drivers Pip and Squeak Bellerophon, and Hangfire, the villain at the helm of various misdeeds and disappearances.
This time around, the problem is the apparent kidnapping of Cleo Knight, the daughter of an important local family. When Theodora wraps up the case prematurely, Lemony feels compelled to uncover the real wrongdoing. His pursuit leads him and his associates into numerous risky situations, and by the end of the novel, the mystery has grown even bigger and darker.
Despite its noir-ish narrative, "When Did You See Her Last?" is often laugh-out-loud funny and features the distinctive voice and quirky stylistics readers expect in a Lemony Snicket novel. The narrator is an avid reader and throughout the novel uses books in a variety of ways to solve the real mystery. The narration actively encourages readers to read, making frequent (although often oblique) references to other books they might enjoy. As in earlier Lemony Snicket books, the narrator uses advanced vocabulary, glossing meanings in context. Certainly this strategy pushes up the reading level, but I found the tactic well integrated with the larger narrative style, never intrusive or artificial. The stylized artwork by Seth is a fine accompanying touch, adding to the atmosphere of the novel and providing its own storytelling.
"When Did You See Her Last?" can be read as a stand-alone novel, but readers may find the book confusing if they are unfamiliar with the first book in the series or with Lemony Snicket generally. Readers who already know Book 1 may find this volume not quite as strong, but "When Did You See Her Last?" is still a quirky, clever, enjoyable reading experience. It's a great pick for readers who are willing to put up with a degree of ambiguity — and with waiting for the next volume in the series. I'm already looking forward to Book 3.
This review was originally published in Resource Links on February 2014.