Review
Guardians of Porthaven
Shane Arbuthnott
Orca Book Publishers, 2021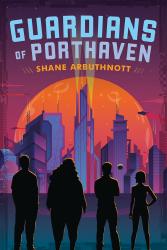 Fifteen-year-old Malcolm Gravenhurst is an innocent. Orphaned young and sheltered from outside influences — including friends — he has just been presented to the public as a Guardian, one of a team of local superheroes who keep Porthaven safe. But Malcolm isn't satisfied with fighting the klek, the alien robots who regularly invade the city, so he sneaks out of his highly protected home to find real villains, real problems. He soon does. What he doesn't expect is the source of these problems. How will Malcolm honour his role as a Guardian when even his own family is set against him?
Guardians of Porthaven is an intriguing, rewarding science fiction novel for upper-middle grade readers. Its fast-moving, twisty plot will keep readers turning pages while its identifiable real-world concerns will encourage them to keep thinking about Malcolm and his relationships long after the book is closed. The story contains themes of class- and race-based privilege, and asks important questions about leadership, underscoring the value of teamwork and collaboration.
I really enjoyed this novel and recommend it heartily. Guardians of Porthaven would make a great addition to any elementary classroom or school library and would make a welcome gift for any reader of contemporary science fiction.