Review
Poetree
Caroline Pignat
Red Deer Press, 2018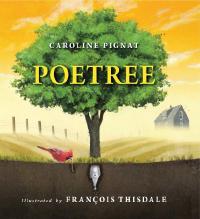 Illustrated by François Thisdale
A tree is so much more than "just" a tree. In Poetree, Caroline Pignat sets a tree as the central object around which a calendar year, four seasons, and an ecosystem turns. Through season-by-season couplets and clever acrostics that draw attention to many features of the natural world, the book offers engaging forms both for kids just beginning to read and spell and for writers discovering and trying poetry for themselves.
It is the illustrations in this book that really stand out for me, however. They are sumptuous, featuring a captivating palette that evolves through the year depicted by the poems. There's richness here for both readers and pre-readers. Wow!
A book that is enjoyable on many levels, Poetree will make a fine addition to classroom libraries (especially for language arts and science teachers) and a thoughtful gift for any reader who enjoys language and writing.
This review was originally published in Resource Links on October 2018.