Review
Hungry for Science
Kari-Lynn Winters and Lori Sherritt-Fleming, Illustrated by Peggy Collins
Fitzhenry & Whiteside, 2018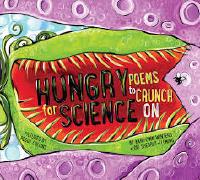 As society recognizes that science, technology, engineering, and math (STEM) fields need to become more diverse and inclusive, and as creative people increasingly add "art" to STEM fields to produce STEAM (art-influenced science-based thinking), a volume like Hungry for Science represents a welcome addition to libraries and book shelves.
The poems in this short picture book speak to basic scientific concepts such as magnetism, chemistry, life cycles, and sustainability; they're intended for pre-readers and beginning readers. The chunky, boldly coloured illustrations accompanying the poems are pleasant and inclusive. Some of the little scientists are girls. Some are people of colour. Some are people with disabilities. All playfully suggest that science is for everyone — an important idea, particularly for early learners (who, research shows, are likely to represent scientists as male and able-bodied). The bouncy, playful verses will encourage repeated reading aloud, and the scientific concepts introduced in the poems are supported by a brief back matter to point scientists-in-the-making to further topics for investigation.
Hungry for Science makes science fun and appealing. It's a great addition to school and classroom libraries, with lots of potential contact points for extension in math, science, ecology, and health lessons. It would also make a strong addition to public libraries, particularly in low-income neighbourhoods where young readers may need encouragement to see themselves in creative, innovative futures.
This review was originally published in Resource Links on December 2018