Review
Whispers of Mermaids and Wonderful Things
Sheree Fitch and Anne Hunt, eds.
Nimbus Publishing, 2017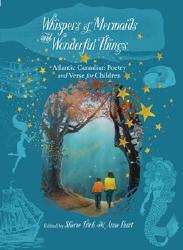 Whispers of Mermaids and Wonderful Things is a fresh collection of children's poetry from and about English Atlantic Canada. It includes more than one hundred poems, not all of them written specifically for children. The collection has considerable reach, spanning from late nineteenth-century poetry to poems written just a few years ago. It is particularly well organized for teaching. The poems are organized by theme, and the book includes short biographies of the contributors. There are poems here to complement many standard Language Arts units and to demonstrate a breadth of literary forms and techniques. All in all, it's a smart, compact, versatile collection, wrapped in a delightful, appealingly designed package.
If you're looking for a book that will be greatly enjoyed and cherished, check out Whispers of Mermaids and Wonderful Things. It's an essential addition to public children's libraries and a worthwhile extension to school and classroom libraries. It would also make a wonderful gift for any young reader who shows an aptitude or appreciation for writing and poetry.
This review was originally published in Resource Links on December 2017.