Review
Those Who Run in the Sky
Aviaq Johnston
Inhabit Media, 2017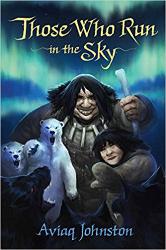 Those Who Run in the Sky is the haunting, lyrical story of Piturniq, a boy on the edge of manhood whose life is overturned when he learns his destiny is to be a shaman. A gifted hunter and a much-admired leader, Pitu finds himself stranded during a blizzard, his sled dogs, tools, and packed food gone. Can he survive the tests of the spirits? Will he ever see his beloved mother or his intended bride again?
It was such a pleasure to read this coming-of-age novel by young Inuk writer Aviaq Johnston. The story is captivatingly told, and the novel has an almost hypnotic voice; it was a book I read in a single sitting because it was so eerie and beautiful. Strands of the Inuit worldview are woven into the story, and people, objects, and ideas are referred to by Inuktitut names, immersing readers in Pitu's reality from the first page (the glossary, including pronunciations, will help readers negotiate the language). Illustrations by Toma Feizo Gas add a further layer of drama and beauty to the text.
Educators and librarians looking to bring more Indigenous texts into classrooms and collections should include Those Who Run in the Sky. The book offers all readers a wise, identifiable protagonist and provides a brilliant way, as the author suggests, to "continue the tradition of sharing and teaching." I hope this book is read and recognized widely; though very different from much of what teens are reading today, it has relevant and timely themes and ideas to share.
This review was originally published in Resource Links October 2017