Review
Wonder Women
Sam Maggs
Quirk Books, 2016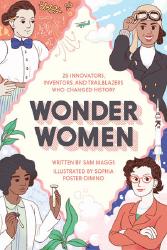 Sam Maggs is a Canadian writer and editor. You may be familiar with her 2015 book The Fangirl's Guide to the Galaxy: A Handbook for Girl Geeks or with her work on various websites and newspapers. Her new book is called Wonder Women, a breezy survey of twenty-five women who have excelled in science- and math-related disciplines as well as other areas of endeavour. It's a fun, fact-filled volume intended to inspire girls and young women.
Wonder Women is a well-built book. It represents a range of cultures and eras, with a strong emphasis on women's accomplishment in STEM fields. It also includes short interviews with contemporary women working in science, research, and communications, exactly the kinds of role models teens and young women need today as they encounter sometimes destructive pressure to conform to narrow social roles and behaviours. I liked the inclusion of the section "Women of Adventure," featuring a mountaineer, an explorer, a pilot, and several women who pursued interests once believed to be restricted to men.
My major concern with this book is that it underestimates teen girls. Girls reading to learn about feminism don't need to be lured by slang and anti-male mudslinging. They can handle serious prose; they read it elsewhere in their lives, and if they are serious about understanding feminism, they'll be motivated to read seriously. I'm not in any way saying feminism can't be fun, funny, or even silly; I am saying that we don't need to write as if teens are incapable of reading standard prose. One could read this book cynically to suggest that stories of accomplished women must be made super catchy and accessible to be read, despite that this is clearly not Maggs's intention.
Wonder Women is a smart, accessible book that should be part of junior and senior high school libraries and would make a lively addition to any public library with a strong teen program. But do anticipate that readers will likely find its references and phrasing out of date fairly quickly.
This review was originally published in Resource Links on December 2016.