Review
If, By Miracle
Michael Kutz
The Azrieli Foundation, 2013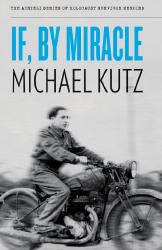 Today, most people who lived through World War Two belong to the generation of grandparents or great-grandparents. The legacy of the war — and particularly of the Holocaust — seems somehow diminished as we lose the witnesses to this terrible period. For this reason, If, By Miracle is an important book: it captures the first-hand story of extraordinary survival.
Michael Kutz was ten years old when he escaped from the Einsatzgruppen, a killing unit that gathered the Jews of his town and led them to the forest to be shot en masse. Every other member of his family was murdered (with the exception of his father, who had been mobilized by the Red Army and died in battle). A few months later, Michael joined a resistance group and spent the next two years fighting the Nazis and their collaborators in eastern Poland. When the war finally ended, he was shunted from place to place, trying to find any living relatives and hoping to be selected for life in the new state of Israel. Michael eventually ended up in Canada, where he lived an astonishing adult life of service to others, including advocacy, fund-raising, and leadership.
Despite its significance, this is not a book for every teen reader. If, By Miracle is a straightforward memoir, written at an advanced level; it is a serious book that demands attentive, thoughtful reading. It includes an extensive glossary, which I found very helpful; a context-setting introduction; maps of Europe prior to and during the war; and a section of photographs of Michael Kutz, often featuring people mentioned in the text. This book is an excellent, vital resource, but only some young-adult readers will be able to navigate the style and presentation.
Michael Kutz is clearly a phenomenal individual and should be recognized for both his work with the resistance during the war and his work on behalf of the Jewish community since coming to Canada. We must not forget the Holocaust, and individual stories of survival are critical to gaining a fuller understanding of this horrifying crime. If, By Miracle should be in school libraries and public libraries across Canada, not only for teen readers but for everyone.
This review was originally published in Resource Links on February 2015.