My New Book!
November 18, 2019
Publication Delayed! until 2022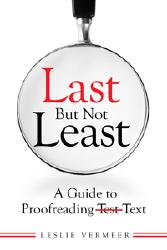 Some of you may already know this, but I am excited to announce at last that I have a new book coming out in 2020. Last But Not Least is my guide to becoming a better proofreader.
Nothing is worse than working hard on an essay or a report for work only to realize after you've submitted it that you let an embarrassing typo slip through. Last But Not Least was written to teach you the skills to avoid that ignominious fate. It not only reviews and explains the rules of grammar and mechanics (my favourite! 😄) but also introduces techniques and processes to help you hone your proofreading-fu.
I am delighted to see the project so close to publication. Proofreading is something that we can all use a little help with, whether we're composing a tweet or working on the latest magnum opus — and, as the title says, it may be the last thing you do, but it certainly isn't the least.
The details can be found here . I look forward to hearing from you when the book comes out. You can bet I'll be singing from the rooftops when it does!
More at Brush Education